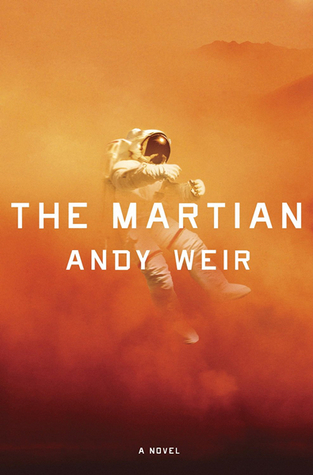 The Martian

by Andy Weir
Published by Crown Publishing Group on 2014
Genres: Action & Adventure, Fiction, Hard Science Fiction, Science Fiction, Suspense, Thrillers
Pages: 369
Format: eBook
Add to Goodreads


Buy the Book at Amazon • Buy the Book at Indiebound •
Six days ago, astronaut Mark Watney became one of the first men to walk on the surface of Mars. Now, he's sure he'll be the first man to die there.

It started with the dust storm that holed his suit and nearly killed him, and that forced his crew to leave him behind, sure he was already dead. Now he's stranded millions of miles from the nearest human being, with no way to even signal Earth that he's alive--and even if he could get word out, his food would be gone years before a rescue mission could arrive. Chances are, though, he won't have time to starve to death. The damaged machinery, unforgiving environment, or plain-old "human error" are much more likely to get him first.

But Mark isn't ready to give up yet. Drawing on his ingenuity, his engineering skills--and a relentless, dogged refusal to quit--he steadfastly confronts one seemingly insurmountable obstacle after the next. But will his resourcefulness be enough to overcome the impossible odds against him?
My Review:
I picked up a copy of Andy Weir's The Martian when it was released because, frankly, I absolutely adore survival stories.  I blame my love of them totally on Swiss Family Robinson and The Myserious Island.  I also have a major fascination with space (and the ocean) – basically anything that represents places that have been left completely unexplored and have the potential for so much.
However, once I'd purchased The Martian, I found myself diving into required reading for my first semester of graduate school so, alas, it had to be put on the back burner.  My father read it, and laughed out loud several times – also, he took the time to update me on the spectacularly hilarious, crass opening line.  It's a doozy, folks.  But it's perfect because it sets the story up remarkably well.
Mark Watney is the perfect character for a story like this.  He's filled with humor and just the right blend of sarcasm and hope.  The book, similarly, was also filled with a perfect blend of science, implausible plausibility (oxymoron? it works though), and outright funny moments.  It deals with everything from human waste, immature behavior that comes as a result of massive responsibility, and a message of hope for the working together of the humans of the world.    What I also loved was that the book dealt SOLELY with the survival aspect.  There was no extended story about everything that happens after, it revolves completely around the obstacles Watney faces and how it all works out in the end.
I very much recommend this book for science lovers, adventure lovers, and people who just enjoy a good laugh at some pretty crude jokes.  My dad and I both loved it and I enjoyed chatting with him about it once I'd finished.
Check out these reviews!
"It is absolutely amazing how exciting The Martian reads for someone who abhors chemistry. –  Seacoast Reads
"Weir does a fine job of conveying the novel's science, much of which involves complex chemistry, to the reader in a way that makes them believe they understand the process that Watney is using to survive." – A Dribble of Ink
"The Martian is a thriller in every sense of the word; an intriguing, mind boggling, math driven, Mars bound tale of survival." – The Bookbeard's Blog