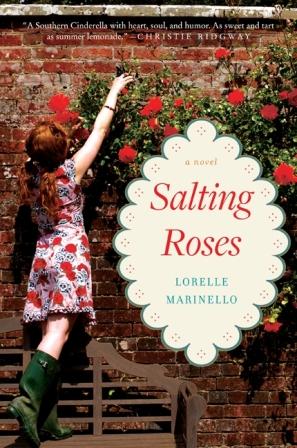 Order from:
Reason(s) for Reading:
After several really good Southern fiction books, I jumped at the chance to read this one when I saw it listed on TLC Tours!
I  also recommend:
Summary from GoodReads:
A young woman abandoned as an infant on an Alabama porch is horrified to discover that she is the missing heiress to a vast Connecticut fortune—a birthright she is desperate to reject in favor of her Peachtree Lane roots.
Gracie Lynne Calloway—once left in a coal bucket on a front porch in a small Alabama town—discovers on her twenty-fifth birthday that she is the kidnapped daughter of a late New England financier and heiress to a fortune. When the tabloid press and her unwanted greedy relatives descend on her, she has to admit the quiet secure life she's known and loved is gone for good. As Gracie struggles to stabilize her world and come to terms with her new identity, she learns that belonging is not about where you came from but who you are.
My Review:
I've only recently (as in this year) become a fan of "Southern" fiction, books set in the south and ranging from Margaret Mitchell's Gone with the Wind to Kathryn Stockett's The Help to more modern stories such as Beth Hoffman's Saving CeeCee Honeycutt.  I've been incredibly lucky to have read some fantastic titles, but also have read some.. not so fantastic ones.
So when I saw the description for Salting Roses I jumped at the opportunity to read it.  A sort of "Cinderella/Coming-of-Age" story? Yes please! I was so excited and dove right in.. and I was hooked, until things went even a little too overboard for me.
There is a lot of potential story in this book, and perhaps others will not have as much difficulty as I had, but there are so many "secondary" characters that I felt the story sort of.. got lost.  And then Gracie Lynn kind of got lost in it, and then I was confused as to what exactly the story was supposed to be.
I loved the start of the book, loved it.  I was a little perturbed by how outlandish the sum of money was that Gracie inherited, but I accepted that that's a pet peeve of mine and got over it quickly.  I loved Ben and Artie and Alice, I loved the foundation being set for who Gracie Lynn was.  But then.. things drifted.
I think the problem with this book is that Ms. Marinello tried to get too much put into the story in too little pages.  I don't think the book should have been longer though, just.. less conflict, less romance, less.. .something. Just one of those ingredients left out and I think it would have been better.  But instead, she seemed to go to extremes, starting with that pet peeve of mine – the huge amount of money.  Then instead of one mean person, there's two.  Instead of one uncle, there's an uncle and aunt… I could go on with a few more, but I think you understand what I'm talking about here.
The lesson in all of this is moderation.  With just a little bit less of everything, I think the story would have fit together more easily and been less confusing and more enjoyable. I don't think the book was bad, I was just disappointed at how quickly everything had to move and everyone had to change to get to the ending.
About the Author
Lorelle Marinello has won numerous awards for her writing, including the Romance Writers of America's Golden Heart for Best Single Title Romance in 2005.
Lorelle received her BA in Fine Arts from San Diego State University. She lives in Southern California with her huband and three children. In her free time she enjoys landscape gardening and researching her family's Southern genealogy. Her first novel,Waltzing with Alligators, inspired by her Southern roots, will debut in 2008.
Visit Lorelle Marinello at her website here.
For more reviews on Salting Roses by Lorelle Marinello, please follow the book tour.
Disclosure of Material Connection: I received this book free from TLC Book Tours. I was not required to write a positive review. The opinions I have expressed are my own. I am disclosing this in accordance with the Federal Trade Commission's 16 CFR, Part 255: "Guides Concerning the Use of Endorsements and Testimonials in Advertising."