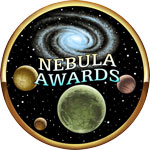 Over the next few weeks I'll be reading the nominees for the 2010 Nebula Awards. While I won't get to every book, I do plan on reading those novels listed and those listed for the Andre Norton award as well.
Order from:
Reason(s) for Reading:
This title is one of the awards for best novel in the 2010 Nebula Awards
I recommend:
Summary from GoodReads:
Yeine Darr is an outcast from the barbarian north. But when her mother dies under mysterious circumstances, she is summoned to the majestic city of Sky. There, to her shock, Yeine is named an heiress to the king. But the throne of the Hundred Thousand Kingdoms is not easily won, and Yeine is thrust into a vicious power struggle with cousins she never knew she had. As she fights for her life, she draws ever closer to the secrets of her mother's death and her family's bloody history.With the fate of the world hanging in the balance, Yeine will learn how perilous it can be when love and hate – and gods and mortals – are bound inseparably together.
My Review:
WOW.
Just.. WOW.
Were it not for the Nebula Awards, I would not have picked up this book and I would have missed out – big time.  I'm a fantasy and science fiction lover, but not since discovering the Mistborn trilogy have I been sucked into a world so thoroughly and completely.  This is just Book 1 of the trilogy but it was an entire epic experience, all on its own.
I don't even know where to begin without just.. gushing praise left and right, because that's what this book deserves.  Ms. Jamisin, thank goodness for authors like you!  This book contained such brilliant arcs of storytelling that there is absolutely no need for a cliffhanger at the end to have me grabbing for the next book in line.  I simply need to read more.  That is a sign of great storytelling.
The world in The Hundred Thousand Kingdoms is fantastically made.  Descriptions given by Yeine throughout the story (which are not a digression) provide pictures through example of how the strange Kingdom of Sky is crafted and how the lands are laid out around it.  The authority structure, on its surface, seems simple, but then as the story unfolds it just gains more intricate layers until, by the end of the novel, you are surrounded by so much information, so much color, that it's amazing to realize that you can grasp it all, understand it and still feel overwhelmed by it all at the same time.
And then there's Yeine Darr.  There was not a single thing I found lacking in her.  She carried strength, humanity and so much more.  She deals with conflicts, makes imperfect decisions and does everything that endears herself to those reading her.  I felt by the end of this book as if she were a close friend and found myself cheering her on while simultaneously wishing I could enfold her in a huge hug.
I knew reading the Nebula nominees this year would be a blast of fun but I had no idea it was going to be like this.  All I have to say is (as this is the first I've read thus far), this book sets the bar incredibly high.  Ms. Jamisin is a force to be reckoned with.
Check out these review(s):
Related Posts