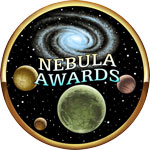 Over the next few weeks I'll be reading the nominees for the 2010 Nebula Awards. While I won't get to every book, I do plan on reading those novels listed and those listed for the Andre Norton award as well.
Order from:
Reason(s) for Reading:
This title is one of the awards for best novel in the 2010 Nebula Awards
I also recommend:
Summary from GoodReads:
In the tradition of Jonathan Strange & Mr. Norrell, this brilliant first novel fuses history, fantasy, and romance. Prepare to be enchanted by M. K. Hobson's captivating take on the Wild, Wild West.
The year is 1876. In the small Sierra Nevada settlement of Lost Pine, the town witch, Emily Edwards, is being run out of business by an influx of mail-order patent magics. Attempting to solve her problem with a love spell, Emily only makes things worse. But before she can undo the damage, an enchanted artifact falls into her possession—and suddenly Emily must flee for her life, pursued by evil warlocks who want the object for themselves.
Dreadnought Stanton, a warlock from New York City whose personality is as pompous and abrasive as his name, has been exiled to Lost Pine for mysterious reasons. Now he finds himself involuntarily allied with Emily in a race against time—and across the United States by horse, train, and biomechanical flying machine—in quest of the great Professor Mirabilis, who alone can unlock the secret of the coveted artifact. But along the way, Emily and Stanton will be forced to contend with the most powerful and unpredictable magic of all—the magic of the human heart.
My Review:
This is the second of the 2010 Nebula Nominees for best novel that I've read and I found it to be a romping fun ride.  Think Will Smith in The Wild, Wild West and you'll get a taste of what this novel is about.  Add spaceships to it and you might even find yourself thinking of Joss Whedon's Firefly.  There's just something about the wild west, corsets and magic to get this fantasy lovers imagination going.
Before I talk about the story I have to gush a little over the cover.  I ended up having to order this book on my Kindle because our library didn't have it and I wanted to read it quickly – so I'm missing out on displaying that gorgeous cover and that is a bit disappointing.  That said, isn't it beautiful?  And it does a great job of portraying the spirit of this novel.
Emily Edwards is a spunky, back-town witch involved in charms and various remedies and she was doing just fine until a warlock named Dreadnought Stanton arrived on the scene.  This isn't the wild west that is portrayed in John Wayne movies – no, this wild west has magic and several factions of magic users along with an incredibly unique way of looking at the system of belief and magic as being connected to one another.
While I thought the book was fun, I also have to say there were parts of it that were a little too slow and bogged down to fully enjoy.  But those parts were few and far between and I thought the pace of the book was, overall, well done.  Fantastic addition to the list for Nebula nominees!
Check out these review(s):
Related Posts