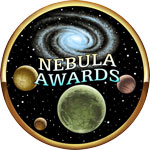 Over the next few weeks I'll be reading the nominees for the 2010 Nebula Awards. While I won't get to every book, I do plan on reading those novels listed and those listed for the Andre Norton award as well.
Order from:
Reason(s) for Reading:
This title is one of the awards for best novel in the 2010 Nebula Awards
I also recommend:
Summary from GoodReads:
Shades of Milk and Honey is exactly what we could expect from Jane Austen if she had been a fantasy writer: Pride and Prejudice meets Jonathan Strange & Mr. Norrell. It is an intimate portrait of a woman, Jane, and her quest for love in a world where the manipulation of glamour is considered an essential skill for a lady of quality.
My Review:
I have to admit, I was a bit put off by the cover of this book.  The female picture isn't really .. ugly as much as, I don't know how to describe it but I was somewhat put off by both the pictured girl and the cover itself.  I don't think, had it not been for the Nebula Nominee list, I would have ever picked this one up.
That said, I did and it was not what I expected.  The summary says it's like a mix of Pride and Prejudice meets Jonathan Strange and Mr. Norrell but I really didn't get that vibe from it.  Yes, there were similarities to Pride and Prejudice but it was more like a young adult look at the time period mixed up with a bit of magic.
The magic system in this book seemed very simple – just another accomplishment to add to the list of accomplishments.  By folding and tying off "magic" illusions and artwork could be created.  While it was fanciful and provided for some interesting moments, I felt less like I was reading a fantasy book and more like I was reading "fantasy-light" for teenagers with some historical backdrops.
While I can see the allure of the book for a cozy afternoon at home spent reading, I don't quite see how this book can measure up to the more hard-hitting titles nominated for the Nebula Awards.  It will be interesting to see how it does.
Check out these review(s):
Related Posts