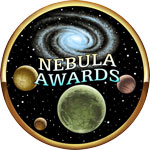 Over the next few weeks I'll be reading the nominees for the 2010 Nebula Awards. While I won't get to every book, I do plan on reading those novels listed and those listed for the Andre Norton award as well.
Order from:
Reason(s) for Reading:
This title is one of the awards for best novel in the 2010 Nebula Awards
Summary from GoodReads:
International award-winning author Nnedi Okorafor enters the world of magic realist literature with a powerful story of genocide in the far future and of the woman who reshapes her world.
In a post-apocalyptic Africa, the world has changed in many ways, yet in one region genocide between tribes still bloodies the land. After years of enslaving the Okeke people, the Nuru tribe has decided to follow the Great Book and exterminate the Okeke tribe for good. An Okeke woman who has survived the annihilation of her village and a terrible rape by an enemy general wanders into the desert hoping to die. Instead, she gives birth to an angry baby girl with hair and skin the color of sand. Gripped by the certainty that her daughter is different—special—she names her child Onyesonwu, which means "Who Fears Death?" in an ancient tongue.
From a young age, stubborn, willful Onyesonwu is trouble. It doesn't take long for her to understand that she is physically and socially marked by the circumstances of her violent conception. She is Ewu—a child of rape who is expected to live a life of violence, a half-breed rejected by both tribes.
But Onye is not the average Ewu. As a child, Onye's singing attracts owls. By the age of eleven, she can change into a vulture. But these amazing abilities are merely the first glimmers of a remarkable unique magic. As Onye grows, so do her abilities—soon she can manipulate matter and flesh, or travel beyond into the spiritual world. During an inadvertent visit to this other realm she learns something terrifying: someone powerful is trying to kill her.
Desperate to elude her would-be murderer, and to understand her own nature, she seeks help from the magic practitioners of her village. But, even among her mother's people, she meets with frustrating prejudice because she is Ewu and female. Yet Onyesonwu persists.
Eventually her magical destiny and her rebellious nature will force her to leave home on a quest that will be perilous in ways that Onyesonwu can not possibly imagine. For this journey will cause her to grapple with nature, tradition, history, true love, the spiritual mysteries of her culture, and ultimately to learn why she was given the name she bears: Who Fears Death?
My Review:
Fantastic book!  Seriously, this one took me FOREVER to read, but that was because of just how incredibly amazing it was.
Before I start talking about all of the fantastic elements of this book let me just say that this story was completely out of my comfort zone.  Everything was strange to me, the culture, the names, the language, the myths – everything was brand new.  I expect some of that already when I read fantasy books, but this was even more so.. because it was rooted in the real world in such a fashion that everything seemed completely plausible.
Onye, as a main character, experiences conflict, joy, terror, hope and more.  She's strong and weak, stubborn and pliant and gives me, the reader, everything I was dying to have in a main character.  I seriously cannot sing the praises of her development enough and loved every layer of her that I got to see slowly peeled away.
This is, by far, one of the top contenders for the Nebula award, in my opinion.  I challenge each of you reading this review to step out of your comfort zone and give this book a shot. You will be fiercely entertained and stunned by the magnitude of the story and its message.
Check out these review(s):
Related Posts