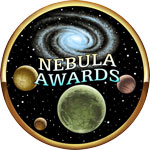 Over the next few weeks I'll be reading the nominees for the 2010 Nebula Awards. While I won't get to every book, I do plan on reading those novels listed and those listed for the Andre Norton award as well.
Order from:
Reason(s) for Reading:
This title is one of the awards for best novel in the 2010 Nebula Awards
Summary from GoodReads:
Oxford in 2060 is a chaotic place. Scores of time-traveling historians are being sent into the past, to destinations including the American Civil War and the attack on the World Trade Center. Michael Davies is prepping to go to Pearl Harbor. Merope Ward is coping with a bunch of bratty 1940 evacuees and trying to talk her thesis adviser, Mr. Dunworthy, into letting her go to VE Day. Polly Churchill's next assignment will be as a shopgirl in the middle of London's Blitz. And seventeen-year-old Colin Templer, who has a major crush on Polly, is determined to go to the Crusades so that he can "catch up" to her in age.
But now the time-travel lab is suddenly canceling assignments for no apparent reason and switching around everyone's schedules. And when Michael, Merope, and Polly finally get to World War II, things just get worse. For there they face air raids, blackouts, unexploded bombs, dive-bombing Stukas, rationing, shrapnel, V-1s, and two of the most incorrigible children in all of history—to say nothing of a growing feeling that not only their assignments but the war and history itself are spiraling out of control. Because suddenly the once-reliable mechanisms of time travel are showing significant glitches, and our heroes are beginning to question their most firmly held belief: that no historian can possibly change the past.
My Review:
I am so incredibly grateful to the Nebula awards for bringing titles to light that I would have overlooked.  Blackout by Connie Willis is one of those titles.
I'm a big fantasy lover – but I haven't really delved that much into the world of science fiction and alternative history, so this book was a bit of a stretch for me.  I loved it though, I loved how different events were looked at from all points of view, how beliefs were so firmly stated that I had no problem believing them – and then sharing in the disbelief and doubt that began to emerge in the main characters.
And the history.. it was such an intimate picture of unsung heroes at times I felt as if I was standing outside a building, peeking in through the windows to watch these characters, supporting characters and more go about their daily business.  It brought home to me a personal, relate-able view of what London during the blackouts was like and just how frightening it had to have been.
Fantastic fun and I cannot wait to check out more of Connie Willis' books.  I just love being introduced to a new author!
Check out these review(s):
Related Posts