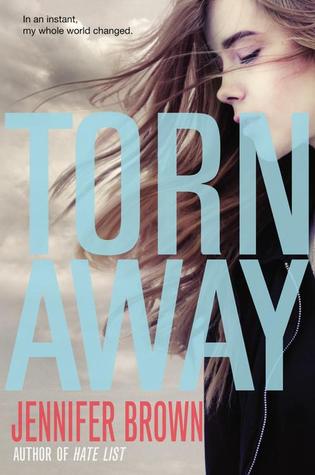 Torn Away

by Jennifer Brown
Published by Little, Brown Books for Young Readers on 2014-05-06
Genres: Death & Dying, Emotions & Feelings, Family, Friendship, General, Multigenerational, Social Issues, Young Adult
Pages: 288
Source: Little Brown Books for Young Readers
Add to Goodreads


Buy the Book at Amazon • Buy the Book at Indiebound •
Jersey Cameron has always loved a good storm. Watching the clouds roll in and the wind pick up. Smelling the electricity in the air. Dancing barefoot in the rain. She lives in the Midwest, after all, where the weather is sure to keep you guessing. Jersey knows what to do when the tornado sirens sound. But she never could have prepared for this.





When her town is devastated by a tornado, Jersey loses everything. As she struggles to overcome her grief, she's sent to live with relatives she hardly knows-family who might as well be strangers. In an unfamiliar place, can Jersey discover that even on the darkest of days, there are some things no tornado can destroy?





In this powerful and poignant novel, acclaimed author Jennifer Brown delivers a story of love, loss, hope, and survival.
I received this book for free from Little Brown Books for Young Readers in exchange for an honest review. This does not affect my opinion of the book or the content of my review.
My Review:
When was the last time you picked up a book and, upon reaching the end of it, were genuinely surprised that it was over already?  Granted, this happens easier on e-reading devices (which was what I was reading TORN AWAY by Jennifer Brown on) but I've had it happen once or twice with a hard copy of a book as well.  Chances are, if something like that happens to you, you may end up feeling like I did when I reached the end of TORN AWAY.  I felt sad and a bit bereft.  I wanted the story to keep going.  To be honest, I've never, ever felt that way about a young adult contemporary novel.  But TORN AWAY also had something I connected hard to.
You see, my home (my family almost all lives there still) is a little town in Illinois called Washington.  Last November, an EF4 tornado ripped through the center of town destroying hundreds of homes.  In a town of 15,000 people, that's a big blow.  We have friends that lost their homes, their items, and are struggling to get their lives back together.  Thankfully, the townspeople were almost all in church so the homes, for the most part, were empty.  There was 1 death in Washington, unlike the large number of deaths in TORN AWAY.  But, we were lucky.  In this book, Jersey was not.
Tragedy strikes Jersey from every angle and, once I got past the shallow dislike of her name being Jersey (seriously?), I immediately began to connect with her.  I'm not gonna lie, there were some honest to goodness sobs coming out of me as I read Jersey's struggles.  I felt her anger, I was angry myself at how unfair everything was – from her losses to the actions taken by those who were supposed to be there for her.  Brown does a beautiful job of ripping away everything and making her reader understand just how powerless a natural disaster like a tornado can make a person.
But Brown doesn't leave us there.  Instead, we, along with Jersey, start the healing process and hope springs.  It was while it was springing, however, that I stumbled into the end of the book.  I stared in disbelief, thinking I'd gotten a defective copy but – upon thinking about it, it was right to end it there.  My emotions were still in a jumble, but they were settled and, while I still felt sorrow, I knew that things would be okay for Jersey.  And the best part?  Jennifer Brown did not compromise her character.  People who were mean and nasty didn't do a complete 180 and become someone they weren't.  Instead, Brown worked within the confines of the story to give it the ending it deserved.
I very much recommend TORN AWAY by Jennifer Brown.  I'm giving it a full five-stars because of how quickly I became invested and how much I really didn't want it to end.  This is my first book that deals with a tornado and the aftermath it causes and it was something I really needed to read right at that moment in time.
Check out these reviews!
"

Simply put, this book is an absolute masterpiece from start to finish. Even though it's a fairly fast read, it did not lack any pizzazz. 

"

 –  YA Book Lover Blog
"

The story was amazing, writing fantastic, main character normal girl easy to relate to and there was no love story.

 

" – Unladylike Reviews
"I'm not a crier, and this book made me tear up several times, so it is well written and I felt for the characters. I just didn't get the unique premise that I had hoped for." – Annette's Book Spot