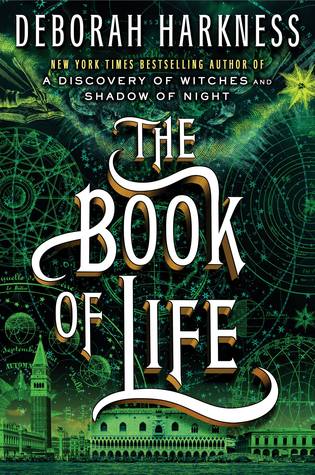 The Book of Life

by Deborah Harkness
Published by Penguin on 2014-07-15
Genres: Fantasy, Fiction, General, Paranormal, Romance, Suspense, Thrillers
Pages: 592
Format: eARC
Source: Penguin
Add to Goodreads


Buy the Book at Amazon • Buy the Book at Indiebound •
The highly anticipated finale to the #1 New York Times bestselling trilogy that began with A Discovery of Witches



After traveling through time in 

Shadow of Night

, the second book in Deborah Harkness's enchanting series, historian and witch Diana Bishop and vampire scientist Matthew Clairmont return to the present to face new crises and old enemies. At Matthew's ancestral home at Sept-Tours, they reunite with the cast of characters from 

A Discovery of Witches

—with one significant exception. But the real threat to their future has yet to be revealed, and when it is, the search for Ashmole 782 and its missing pages takes on even more urgency. In the trilogy's final volume, Harkness deepens her themes of power and passion, family and caring, past deeds and their present consequences. In ancestral homes and university laboratories, using ancient knowledge and modern science, from the hills of the Auvergne to the palaces of Venice and beyond, the couple at last learn what the witches discovered so many centuries ago.





With more than one million copies sold in the United States and appearing in thirty-eight foreign editions, 

A Discovery of Witches

 and 

Shadow of Night

 have landed on all of the major bestseller lists and garnered rave reviews from countless publications. Eagerly awaited by Harkness's legion of fans, 

The Book of Life

 brings this superbly written series to a deeply satisfying close. 
I received this book for free from Penguin in exchange for an honest review. This does not affect my opinion of the book or the content of my review.
My Review:
When I finished SHADOW OF NIGHT, the second book in Deborah Harkness' DISCOVERY OF WITCHES trilogy, I wasn't certain if I would even pick up THE BOOK OF LIFE.  Why was that?  Well, SHADOW OF NIGHT had me feeling overwhelmed and confused.  So many names were being thrown around and so much stuff happening that even pushed the boundaries of fantasy in my mind, that I really struggled with enjoying the story.  On top of that the romance was nearly to the sickening level.  I'd picked up a fantasy book, and while I don't mind romance at all, this was over-the-top puppy swooning.
Now, there was some of that happening in THE BOOK OF LIFE.  The dynamic between Matthew and Diana is near soap-opera level (and don't even get me started on the pregnancy of Diana.  Twins? Really?).  But what saved THE BOOK OF LIFE from being a total disaster was, once again, the story pushing through.  There was drama here, and action, and horror, and stories coming together.  And there was the magic.
It wasn't until I was about half-way through that I finally began to feel the excitement that I experienced in DISCOVERY OF WITCHES.  I was reminded of what drew me to the trilogy to begin with and became even more convinced, as I read, that I needed to recommend this trilogy to my Outlander-loving friends.  Yes, there were moments still when things were pushed a little far, and the relationships were a bit strained (so much testosterone between Gallowglass and Matthew) beyond the borders of reality, but overall, THE BOOK OF LIFE was a fun, satisfying read that kept me up until the wee hours of the morning.
Check out these reviews!
"

If you enjoyed 'Discovery of Witches' I do not hesitate to guarantee you that you will adore this book.

"

 –  Bookish
"If you're looking for something that will have you turning pages as fast as you can, wondering if these amazing characters will get their HEA and yet swooning at the love story being shared, this series is for you." – Fic Fare
"

This is one series that will be truly missed!

" – Feathered Quill Book Reviews