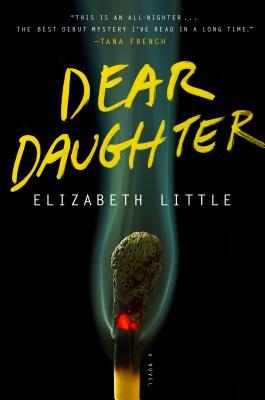 Dear Daughter

by Elizabeth Little
Published by Viking Adult on 2014-07-31
Genres: Contemporary Women, Fiction, General, Suspense, Thrillers
Pages: 336
Format: eARC
Add to Goodreads


Buy the Book at Amazon • Buy the Book at Indiebound •
As soon as they processed my release Noah and I hit the ground running. A change of clothes. A wig. An inconspicuous sedan. We doubled back once, twice, then drove south when we were really headed east. In San Francisco we had a girl who looked like me board a plane to Hawaii.

Oh, I thought I was so clever.

But you probably already know that I'm not.



LA IT girl Janie Jenkins has it all. The looks, the brains, the connections. The criminal record.





Ten years ago, in a trial that transfixed America, Janie was convicted of murdering her mother. Now she's been released on a technicality she's determined to unravel the mystery of her mother's last words, words that send her to a tiny town in the very back of beyond. But with the whole of America's media on her tail, convinced she's literally got away with murder, she has to do everything she can to throw her pursuers off the scent.





She knows she 

really

 didn't like her mother. Could she have killed her?
I received this book for free from in exchange for an honest review. This does not affect my opinion of the book or the content of my review.
My Review:
I honestly don't know what possessed me to send in a request for a review copy of DEAR DAUGHTER by Elizabeth Little.  Books about "It" girls are not really my thing, and I really waver on whether I actually enjoy suspense/thrillers or whether they are just good to pass the time with.  Still, no matter what possessed me at that point in time that I requested a copy, I do know that total boredom and needing to read something out of my norm possessed me to pick up DEAR DAUGHTER last night.
So let me say, right off the bat, that this book does not pull punches.  In a way that really reminded me of NIGHT FILM by Marisha Pessl (a book that I loved, by the way), Elizabeth Little incorporates various parts of the large amount of media in our world today into the world of this book.  Also, as I know by association someone who is currently being completely torn apart by the media, the book was made even more real to me and the result was a sort of horrifying fascination.
DEAR DAUGHTER is the story of Jane (Janie) Jenkins and her desire to start life again after being released from ten years of imprisonment for the murder of her mother.  Determined to figure out the real story behind her mother, and her mothers death, and to fill in the missing blanks from that horrifying night, she sets off on a quest to follow a clue she heard her mother speak moments before dying.
Jane is anything but sweet and innocent and pure.  The character is an extremely unsympathetic one and at no point in time does she make any excuses for her behavior, nor is her awful relationship with her mother ever fully explored or explained.  Instead, we get the same bits and pieces of Janie's mothers past that Jane does and together, reader and protagonist, progress toward the ultimate goal.  The "who done it."
The ending of DEAR DAUGHTER puts me in mind of GONE GIRL by Gillian Flynn.  I glanced around at online reviews and found what I expected – people upset and disappointed and not understanding of just why DEAR DAUGHTER ends the way it does.  I'm somewhat in the minority, because it made perfect sense to me.  DEAR DAUGHTER isn't about happy endings or perfect love stories.  It's the story of a daughter and her messed up relationship with her mother and the consequences of choices made by both.
Check out these reviews!
"

All in all, an excellent debut novel and I look forward to more from Elizabeth Little.

"

 –  Debbishdotcom
"Dear Daughter is a novel of our time, particularly with the current fascination with the trial of Oscar Pistorius, but it's also just a great read. This is an indulgent summer read that will leave you feeling you've spent your time well." –

Girl!Reporter

"

Interesting twist. Unsolved crime. Good debut. Missing the WOW factor though.

" – Literary Marie's Precision Reviews