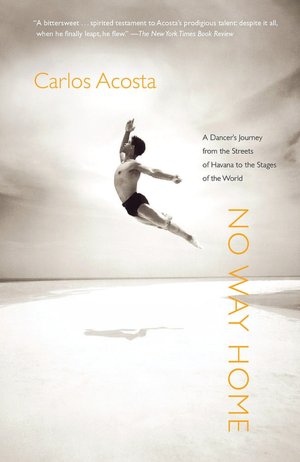 Order from:
Reason for Reading:
I've been reading stories about ballet dancers since I was a little girl.  I couldn't resist another one.
Summary from GoodReads:
Carlos Acosta, the Cuban dancer considered to be one of the world's greatest performers, fearlessly depicts his journey from adolescent troublemaker to international superstar in his captivating memoir, No Way Home.

Carlos was just another kid from the slums of Havana; the youngest son of a truck driver and a housewife, he ditched school with his friends and dreamed of becoming Cuba's best soccer player. Exasperated by his son's delinquent behavior, Carlos's father enrolled him in ballet school, subjecting him to grueling days that started at five thirty in the morning and ended long after sunset.

The path from student to star was not an easy one. Even as he won dance competitions and wowed critics around the world, Carlos was homesick for Cuba, crippled by loneliness and self-doubt. As he traveled the world, Carlos struggled to overcome popular stereotypes and misconceptions; to maintain a relationship with his family; and, most of all, to find a place he could call home.
My Review:
I've always had a thing for the underdog.  I mean, honestly, who hasn't at one point or another in their lives?  I put this book on my TBR list a few years ago, and only recently did the notification pop up that it was available in my library (granted, I wasn't looking too hard when I was in GA, but I digress…).
I'm really torn on this book, because I really, desperately, want to admire what Carlos Acosta, and his family, sacrificed for him to achieve his status in the world today.  I think what makes it hard to fully admire this is because the hard work is so downplayed in this memoir, and instead, the delinquency, the disrespect for his parents, the disregard for the world of ballet is brought to the forefront, cheapening the effect of what could have been a very, very powerful story.
So, rather than focus on the work, on detailing the hours of sweat, speaking of the performances and the struggles within the world of ballet, Carlos Acosta instead, focuses solely on the struggles in his outer world.  Now, granted, they were struggles no one should have to deal with.  His family frequently was in need of food, and Cuba is definitely not a paradise on earth.  His descriptions of his hometown, and the nature surrounding it were lush and I felt like I could envision what he was trying to paint for me … but then he would move back to these, semi-dramatic moments that just distracted from the story.
The other issue I had with the story is the massive rise of ego – from virtually nothing at the beginning until I felt like I was being choked with it at the end.  That could be his youth (he was only 25 at the time of this memoir), but it left me with a distaste for the person he'd become.
I'd only recommend this book if you are a fan, or a ballet enthusiast.  Otherwise, pass this memoir by and go read his Wikipedia entry.
Don't just take my word for it! Check out what these bloggers say!